we had our badmiton day knina and then yung mga kalaro ko is from MAP-DEV! naman! GO BLUE! hahahha...so yun, mejo late na ko dumating cause yung usapan is 7 am dapat nasa The Zone na, eh nagising ako ng quarter to 7 so 7:30 na ata ako nandun sa court, nakagawian na wala ng warm - up, game na agad, hehehehe..mejo ang lakas ng energy ko while playing, until 10:10 naglalaro pa ata kami for the last game, eh mejo bitin pa, so parang yung energy ko talga to play is at boost. hehehe..tapos sa labas nakikisabay din ang malakas na ulan, so yun..nakapaglaro na naman and happy na naman buhay ko..hehehe..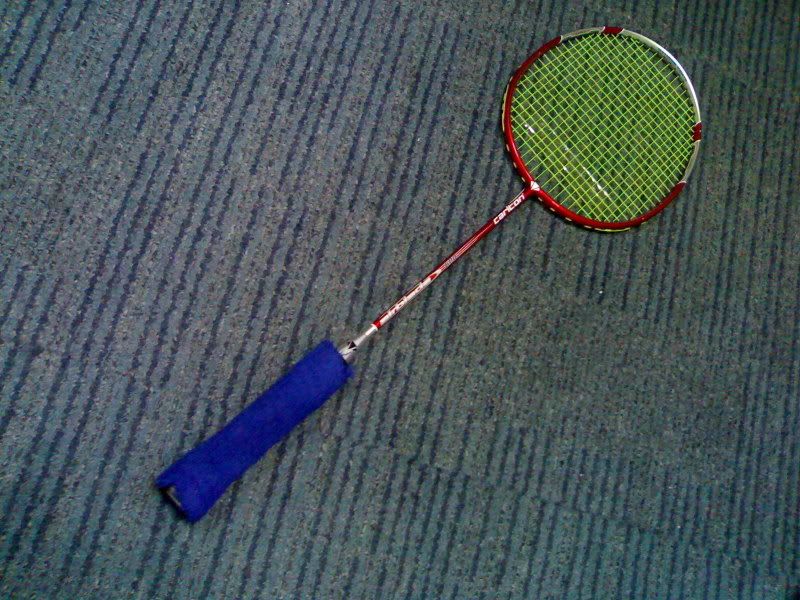 this is the badminton racket im using, this is my 2nd racket na bale, kasi i had my first racket when we had our tournament d2 sa company, last february eh yung tension nun is only 25, eh di ba the higher the tension the better, so after 3 months binili ko cya and buti na lang on sale cya kasi nabili ko lang cya ng less 3k, eh original price nya is less 4k..so its a savings na rin..then yung tension nya is 28 na..not bad for me, kasi parang mejo malakas ako pumalo dahil nag oout cya madalas, huhu..then yung grip naman 3 layer na..why? yung original grip di ko pinatanggal kasi nagpalagay na rin ako ng 2nd grip, so parang pinatong na lang, then to do some "innovation" sa racket ko, nagpalagay ako ng grip na tela naman. so yun nga, color combination nya is blue, red and green..hehehe..naeenjoy ko naman maglaro..hehehe..
then, e2 yung sinasabi ko na first racket ko, sa kanya ako natuto maglaro talaga. mejo 3 months din kami nagsama nito..hehehe..but now madalang ko na lang cya gamitin, pero lagi ko pa rin dala together nung isa pa. kasi sabi ni ate grace dapat 2 yung raketa mo, what if nasira yung isa while playing especially sa tournament di ba? mabuti ng my reserba, kaya thats the reason why dala ko rin cya palagi. hehehe..
regarding naman sa tape, pampatunog lang yun...hehehe..para tunog kahoy pag pumalo ka..hahaha...my nagtanong pa nga before kay ate grace na japanese, kung bkit daw ganun yung sound ng racket nya, then nung nalaman na tape parang ayaw maniwala..
well, thats the power of scotch tape in a racket.